Books
Well, there are more and more of them, in all sorts of guises all over the world. Further down this page, you an read about The Last Minute (now out in paperback), Johnny Swanson, and other books and stories. But for 2014, the big change is the new edition of all the Montmorency books, including the newly-published fifth episode, Montmorency Returns.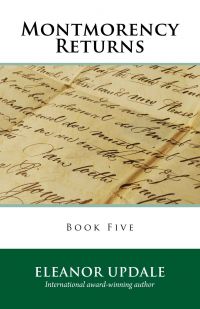 These smart new paperbacks and digital downloads are available only on Amazon. Here's a brief guide to what each is about: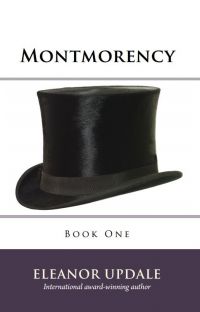 Buy the paperback here: http://www.amazon.co.uk/Montmorency-Eleanor-Updale/dp/148265766X/ref=sr_1_2?s=books&ie=UTF8&qid=1391182545&sr=1-2&keywords=updale
Buy the ebook here: http://www.amazon.co.uk/Montmorency-Eleanor-Updale-ebook/dp/B00B4WGBKQ/ref=tmm_kin_title_0?ie=UTF8&qid=1391182545&sr=1-2
Montmorency is set between 1875 and 1880. This is the story of a small-time crook whose life is transformed after an accident that nearly kills him. An ambitious doctor (Robert Farcett) takes on the task of rebuilding his body, and shows him off at meetings of a scientific society. At those meetings, Montmorency learns about the new underground network of sewers under London. In prison, he plans a new life, stealing things all over London, and getting away through the smelly underground passageways. When he is released, he takes on two identities: Scarper in the Dark underground world, and Montmorency in high society. The book is all about his struggle to prevent each of his identities spoiling everything for the other.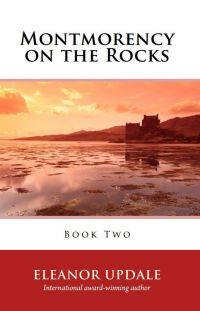 Buy the paperback here: http://www.amazon.co.uk/Montmorency-Rocks-Eleanor-Updale/dp/1482657600/ref=tmm_pap_title_0
Buy the ebook here: http://www.amazon.co.uk/Montmorency-Rocks-Eleanor-Updale-ebook/dp/B009XGIV7G/ref=pd_sim_kinc_1
Montmorency on the Rocks picks up the story in 1885. At the end of the first book, it seems that Montmorency has decided to settle in the world of riches and goodness -- but five years on, his alter ego, Scarper, is back, leading him into a world of depravity. Yet Montmorency needs all his wits about him to solve two mysteries: Who is bombing London, and why, far away on a Scottish island, has a whole generation of babies died? Lots of characters from the first book come back to help Montmorency find the answers.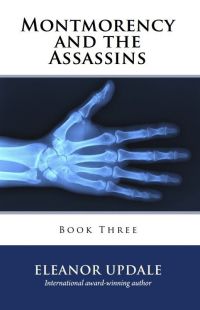 Buy the paperback here: http://www.amazon.co.uk/Montmorency-Assassins-Eleanor-Updale/dp/1482657694/ref=pd_bxgy_b_img_y
Buy the ebook here: http://www.amazon.co.uk/Montmorency-Assassins-Eleanor-Updale-ebook/dp/B009XGIN10/ref=tmm_kin_title_0
Montmorency and the Assassins starts much later - in 1898. Montmorency is getting older, and the world is changing with new inventions, faster travel, and sinister political activists threatening the stability of Europe. What begins as an easy job turns into a life-threatening struggle to track down international terrorists. And this time Scarper seems to have his clutches on someone else: Frank, the young nephew of Montmorency's dearest friend Lord George Fox-Selwyn. We are back in London and Scotland, but also in Italy and America. Once again, everything might go disastrously wrong...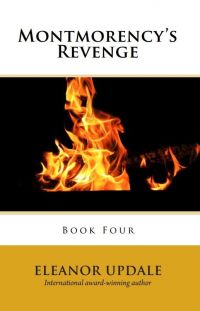 Buy the paperback here: http://www.amazon.co.uk/Montmorencys-Revenge-Eleanor-Updale/dp/1482657627/ref=sr_1_cc_1?s=aps&ie=UTF8&qid=1391183400&sr=1-1-catcorr&keywords=9781482657623
Buy the ebook here: http://www.amazon.co.uk/Montmorencys-Revenge-Eleanor-Updale-ebook/dp/B009XGJ3NC/ref=pd_sim_kinc_2
Montmorency's Revenge starts a few months after the end of Montmorency and the Assassins. What does he want revenge for? I won't tell you in case I spoil the previous book. But I can say that the plot takes in the death of Queen Victoria and bloody events in America, France and Italy. Throughout the story Montmorency has to balance his personal obsessions against his public duties. As before, real and fictional events and people are mixed together in the plot. One character who really existed is Leopoldo Fregoli, who was an international superstar in his day. He was a mime artist and mimic, who was so good at imitating other people that his name was given to a psychiatric disorder involving identity. As you'd expect, this book has questions of identity at its heart.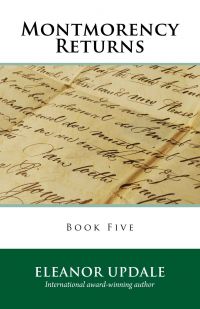 Buy the paperback here: http://www.amazon.co.uk/Montmorency-Returns-5-Eleanor-Updale/dp/1494220873/ref=sr_1_1?s=books&ie=UTF8&qid=1391183528&sr=1-1&keywords=updale+returnsc
Buy the ebook here: http://www.amazon.co.uk/Montmorency-Returns-Eleanor-Updale-ebook/dp/B00I3CT0QW/ref=tmm_kin_title_0?ie=UTF8&qid=1391183685&sr=1-1
Montmorency Returns picks up from the cliff-hanger at the end of the previous book, and flings Montmorency into his most dangerous adventure yet. Everyone around him is in danger, and to save them he must behave in a way that turns them against him. Will he sacrifice his life for theirs? Is this the end? Set in America, Canada and London,this book takes place in 1901/2.
----
As you will see in the 'News' section,

THE LAST MINUTE is now out in paperback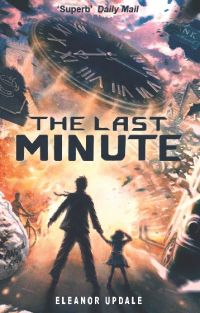 buy it here: http://www.amazon.co.uk/The-Last-Minute-Eleanor-Updale/dp/0552560367/ref=tmm_pap_title_popover
The hardback and ebook are still available.

The Last Minute has sixty chapters, each of which covers just one second in the life of a small town where a series of explosions are about to take place.

It's not just a book -- There's more

WHEN YOU HAVE READ THE BOOK, you can go ONLINE to find out much more about the Heathwick disaster, Click here: www.eleanorupdale.com/minute
You will find the official Commission of Inquiry report on what happened, Press and Radio reports from the day of the disaster and the weeks that followed, and tributes to the victims. There are also clues to the identity of the unidentified body in the rubble.
As in the real world, these sources sometimes conflict. It is for you to decide where the truth lies.
REVIEWS:

Extracts from some early reviews of THE LAST MINUTE are on the NEWS page of this site. So far, everyone has been really enthusiastic.

And here is the full text of the rave review from the BOOKWITCH:
I defy anyone to put this book down before you've got to the end. I really mean that. There are many fantastically good books where you can break off and do other things in the middle of reading. If you have to. With Eleanor Updale's The Last Minute I had to forget about doing anything I had planned, as well as telling Daughter I couldn't talk to her on the phone until I was done.
It's a most unusual concept, featuring the last sixty seconds in the lives of the people on the High Street in a small town. Just before Christmas, just after nine in the morning, there are lots of people out doing what people do. Shopping. Having coffee. Getting buried. Picking up dog poo. Delivering the post. Chugging. Going on a school trip.
Feeling happy, worried, tired or excited. Procrastinating, painting, having a bath, running, bidding on eBay. Sitting on a plane about to land at the nearby airport. Repairing the gas mains.
A minute later there will be an explosion, killing many of the people you've just met and got to know so well, in their everyday worries and concerns.
The prologue 'helpfully' shows the reader what has just happened, leaving no illusions as to the possibility of a happier outcome.
The Last Minute shows a realistic cross-section of life in Britain today, and most of us will recognise ourselves in one or two of these people. I won't call them characters. They were always people.
A little reminiscent of Under Milk Wood in the way the story darts between all of them, except faster. It's amazing the number of actions and thoughts we can cram into sixty seconds.
Just writing about it has my heart rate going all over the place.
(It won't be in the shops until early January, I'm afraid. But you needed to be told now.)
http://bookwitch.wordpress.com/2012/11/07/the-last-minute/
There have already been two advance reviews from Booksellers
'Eleanor Updale's THE LAST MINUTE starts at the "end" of the story after a huge explosion rocks an ordinary high street. Getting to the bottom of how it all happened is down to the reader's powers of deduction and observation as Updale fills in the minutiae of everyone's activities just before the event. This is a very clever and compelling piece of writing.'
'In THE LAST MINUTE Eleanor Updale has written in an unusual form, describing the characters in one town; a snapshot of their lives as the seconds tick towards a devastating series of explosions. It is a real achievement to make the reader care about so many characters that one spends relatively little time with, and to capture the absolute normality that precedes such life-changing incidents. You both wonder who will be affected by the disasters and also spot clues along the way that may or may not be relevant to the story. I found this so compelling that I read this book in one sitting.'
Children's Bookseller Choice 26 October 2012
---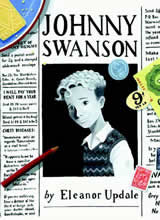 You can still get JOHNNY SWANSON. It's set in 1929, when the First World War had been over for a decade, but the scars still showed. Johnny is a boy who tries to do his best, but accidentally plunges into a world of deceit and murder that threatens everything - even his mother's life.
See the NEWS page of this website for the wonderful reviews it has received.
Johnny Swanson is published by David Fickling Books (which is part of Random House). It is also available as a download for some e-readers, though not yet as an audiobook.

Buy from Amazon
---
---
SAVED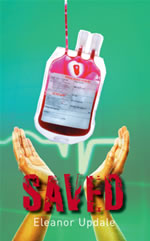 Saved is published by the award-winning company, Barrington Stoke.
It's the story of a boy who has to decide whether to challenge his parents, who are members of an extreme religious cult. They don't believe in modern medicine. But then Luke's sister is almost killed in a car crash. What should he do? And how did the accident happen?

Buy from Amazon
---
Other Work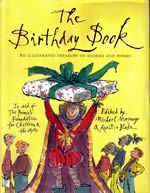 I love writing short stories, and am proud to have been involved with a wonderful anthology of work by writers and illustrators which was published to celebrate the 60th birthday of the Prince of Wales, and to raise money for The Prince's Foundation for Children and the Arts. The Birthday Book, which would be a fabulous present for anyone, was edited by Michael Morpurgo and Quentin Blake, who are great supporters of the charity. My story, Bobby Bailey's Brown Bread Birthday, has been illustrated by the wonderful Posy Simmonds.
Buy from Amazon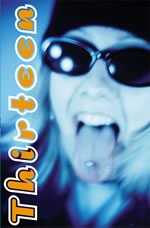 Another of my short stories can be found in a book called THIRTEEN (edited by John McLay and published by Orchard Books). It's a collection of 13 stories, by 13 writers, about being 13.
The other writers in the book are Eoin Colfer, Mary Hooper, Kevin Brooks, Paul Bailey, Jean Ure, Marcus Sedgwick, Kay Woodward, Helen Oyeyemi, John McLay, Margaret Mahy, Bali Rai and Karen McCombie.
I'm thrilled to be in such good company.
My story is called DOUBLE THIRTEEN. It's about a girl whose thirteenth birthday is on Friday 13 th.

Buy from Amazon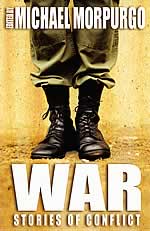 I've also got a story in a collection called WAR: STORIES ABOUT CONFLICT, edited by Michael Morpurgo. The other writers in that book include: Joan Aiken, Eva Ibbotson, Jamila Gavin, Elizabeth Laird, George Layton, Geraldine McCaughrean, Margaret Mahy, Michelle Magorian, Michael Morpurgo, and Celia Rees.
My story is called Not a Scratch. It's about the invisible victims of war: the people who don't feature in the casualty figures, but whose families are nevertheless transformed for generations. .

Buy from Amazon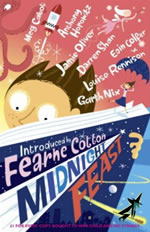 A short story by me is included in a book called MIDNIGHT FEAST. Other contributors include Eoin Colfer, Darren Shan and Jamie Oliver. My story, called Sir Kilfay and the Nano-Spies, is about spies and headlice (you'll have to read it to find out why). The collection is published by HarperCollins in support of the charity, Warchild.

Buy from Amazon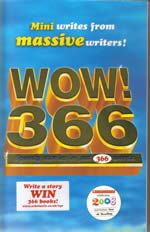 I seem to have a bit of a thing about head lice. I'm on about them again in the book WOW! 366, to which lots of authors contributed stories, each using just 366 words. It was done to mark the Year of Reading (2008 was a leap year, hence 366) and to raise money for the charity, Childline. My contribution 'The New Masters of the Universe', is in verse.
---
THE TRUTH IS DEAD is a collection of short stories, edited by Marcus Sedgwick, each of them picturing what might have happened if a real historical event had turned out differently. My story is about the Millennium Bug, and imagines what Britain could have been like if all computers had ceased to work at midnight on New Year's Eve 1999.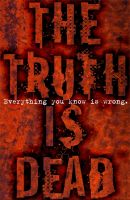 I also have a story in the collection, Haunted. My story - The Ghost in the Machine - is about a very modern ghost who haunts someone though his computer.